ED is defined as the consistent or recurrent inability to attain or maintain an erection sufficient for satisfactory sexual performance.
ED risk factors include widespread diseases such as hypertension and obesity, but also medications such as β-blockers and anti-depressants, as well as major life-style factors like smoking and alcohol use cause ED.
Moreover, age is a risk factor; approximately one third of men in their forties report ED symptoms, 50% of the male population aged between 40 and 70 years will suffer from ED at some stage, with 10% of these affected severely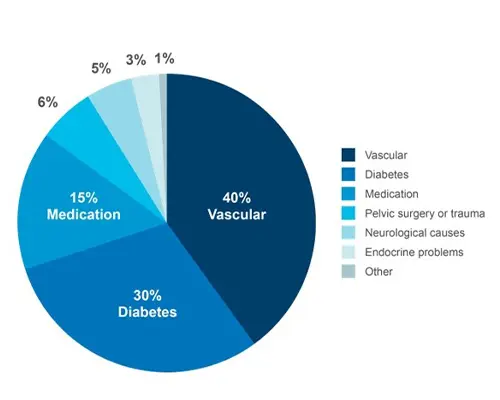 Some of the techniques for investigation of ED are penile ultrasound, penile doppler sonography, angiography, cavernosography, MRI, penile hemodynamics and nerve impulse speed.
200 ml of fat is aspirated and processed in a closed system for stem cells isolation. 2 ml volume having at least 2-4 million stem cells per kg body weight is injected.
Therapy of ED also includes administration of PRP along with Laser activated adipose derived stem cells with dose of 0.5 million to 1 million per kg body weight.
The website contains no medical advice. All statements and opinions provided by the website are for educational and informational purposes. ||
The treatment centres associated with Revita lifesciences provide surgical procedure only and are not involved in use or manufacture of any investigational drug ||
Revita does not claim that any application or potential application, using autologous stem cells are approved by the FDA. We do not claim that these procedures work for any listed nor unlisted condition, intended or implied.||
It's important for potential patients to do their own research based on the options we present so that one can make an informed decision. Any decision to participate in experimental protocol is completely voluntary ||