Research and Publications
1. An open label, randomized, multicentric, prospective, clinical study to determine the safety and therapeutic effectiveness of bone marrrow derived adult stem cells via multiple routes of administration in the treatment of patients with complete spinal cord injury.
2. Non-randomized, open-labeled, interventional, Single Group, proof of concept study with multimodality approach in cases of brain death due to traumatic brain injury having diffuse axonal injury."
3. Book Series titled Application of PRP in elbow, Knee & Shoulder published by Crown Publishers USA.
4. Reversal of Methanol Induced Blindness by Autologous Bone Marrow Derived Stem Cells : A Case-Series
5. Therapeutic application of bone marrow derived stem cells in patients with methanol induced blindness:
6. Intra-articular injection in the knee of adipose derived stromal cells (stromal vascular fraction) and platelet rich plasma for osteoarthritis
7. Autologous bone marrow derived stem cells in spinal cord injury
8. Administration of Autologous Bone Marrow derived Stem Cells for treatment of cerebral Palsy Patients: A Proof of Concept
9. A short study report on bone marrow aspirate concentrate cell therapy in ten south Asian Indian patients with autism
10. Evaluation of bone marrow processing protocol for therapeutic applications via culture and characterization of Mesenchymal Stem Cells
11. Therapy with Bone Marrow derived autologous adult stemcells in Quadriparesis due to Motor Neuron Disease
12. Effect of Stromal Cell and Bone Marrow Stem Cell Fusion in Patients with Mild Alzheimer's Disease: A Proof of Concept Study
13. Effects of the intramyocardial implantation of stromal vascular fraction in patients with chronic ischemic cardiomyopathy
14. Editorial: Autologous bone marrow transplantations in Neurological Disorders
15. Intramedullary fixation of forearm fractures with new locked nail
16. Chondroprotection Using Naturally Occurring Mineral Supplementation Formulation in Degenerative Osteoarthritis of the Knees
17. Natural minerals used as food supplement provides early relief from Osteoarthritis of Knees: A randomized placebo controlled clinical trial
18. Platelet-Rich Plasma (PRP) in Osteoarthritis(OA) of Knee: Correct dosage critical for long term clinical efficacy
19. PRP Injection for pain and healing better than Corticosteroid: Shoulder Pain
20. PRP Injection for pain and healing better than Corticosteroid: Knee Pain
21. PRP Injection for pain and healing better than Corticosteroid: Tennis elbow Pain
22. Platelet-Rich Plasma: Regenerative Orthobiological Tool
Intra-articular injection in the knee of adipose derived stromal cells (stromal vascular fraction) and platelet rich plasma for osteoarthritis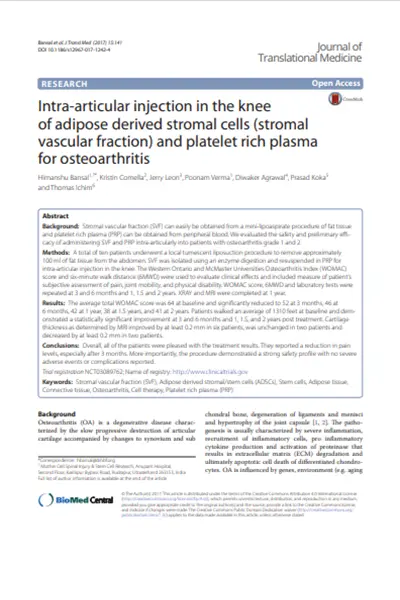 Effect of Stromal Cell and Bone Marrow Stem Cell Fusion in Patients with Mild Alzheimer's Disease: A Proof of Concept Study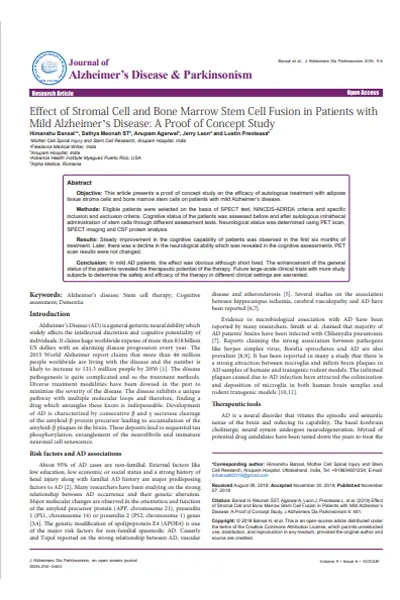 A short study report on bone marrow aspirate concentrate cell therapy in ten south Asian Indian patients with autism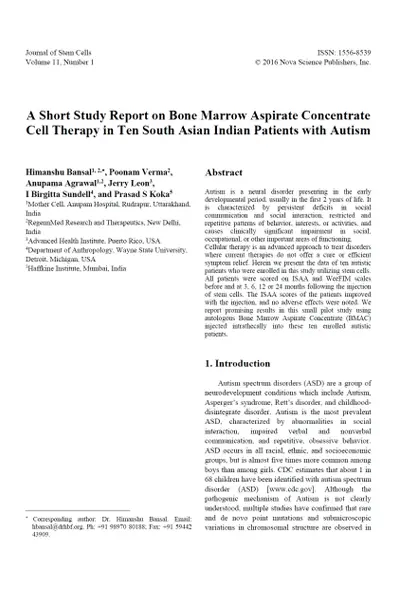 Evaluation of bone marrow processing protocol for therapeutic applications via culture and characterization of Mesenchymal Stem Cells
Effects of the intramyocardial implantation of stromal vascular fraction in patients with chronic ischemic cardiomyopathy
Administration of Autologous Bone Marrow derived Stem Cells for treatment of cerebral Palsy Patients: A Proof of Concept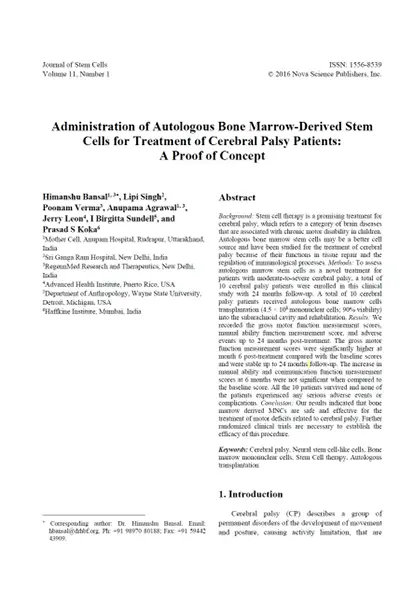 Editorial: Autologous bone marrow transplantations in Neurological Disorders
Intramedullary fixation of forearm fractures with new locked nail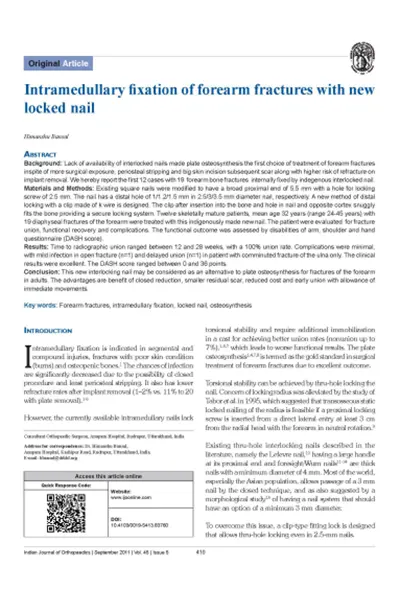 Reversal of Methanol Induced Blindness by Autologous Bone Marrow Derived Stem Cells: A Case-Series
Chondroprotection Using Naturally Occurring Mineral Supplementation Formulation in Degenerative Osteoarthritis of the Knees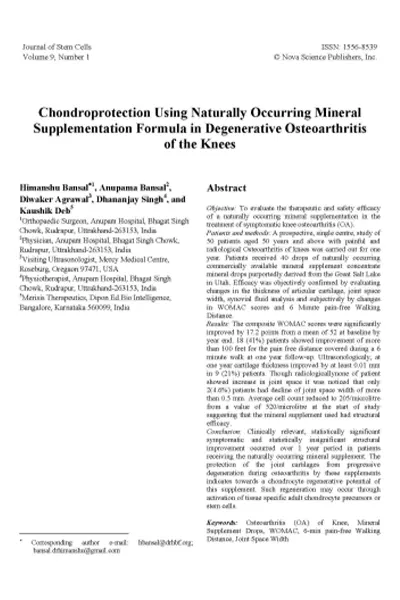 Natural minerals used as food supplement provides early relief from Osteoarthritis of Knees: A randomized placebo controlled clinical trial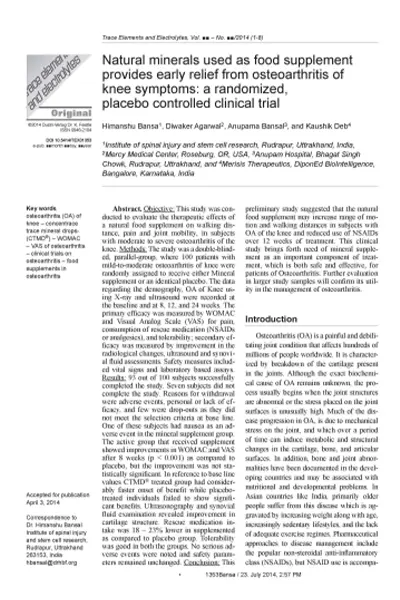 Therapy with Bone Marrow derived autologous adult stem cells in Quadriparesis due to Motor Neuron Disease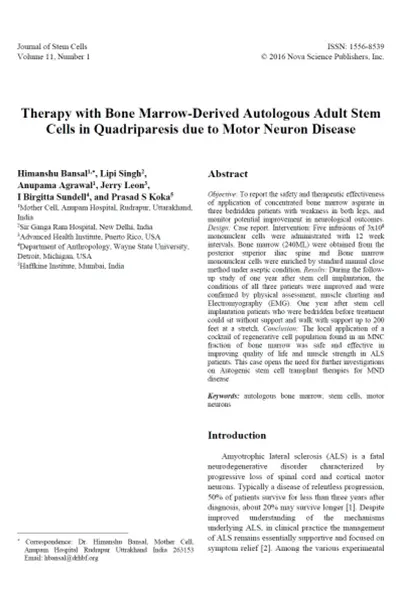 Platelet-Rich Plasma (PRP) in Osteoarthritis(OA) of Knee: Correct dosage critical for long term clinical efficacy
Therapeutic application of bone marrow derived stem cells in patients with methanol induced blindness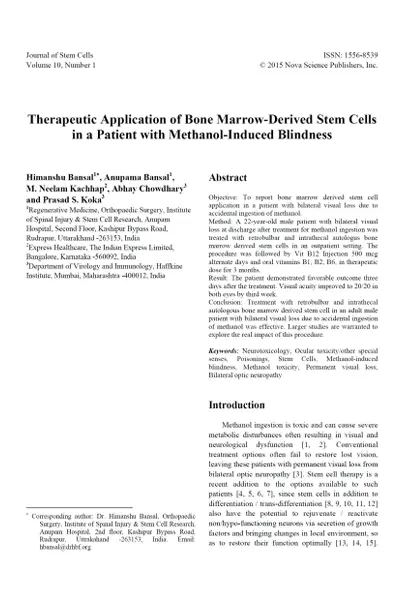 Autologous bone marrow derived stem cells in spinal cord injury
Do Morphological and ethnic factors affect the outcome of total knee arthroplasty?- A Review
Reversal of Methanol Induced Blindness by Autologous Bone Marrow Derived Stem Cells: A Case-Series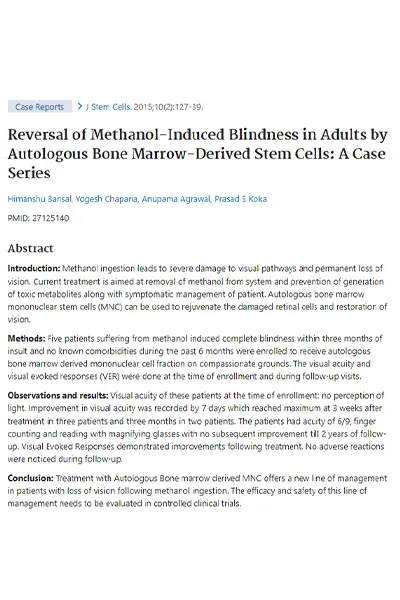 PRP Injection for pain and healing better than Corticosteroid: Knee Pain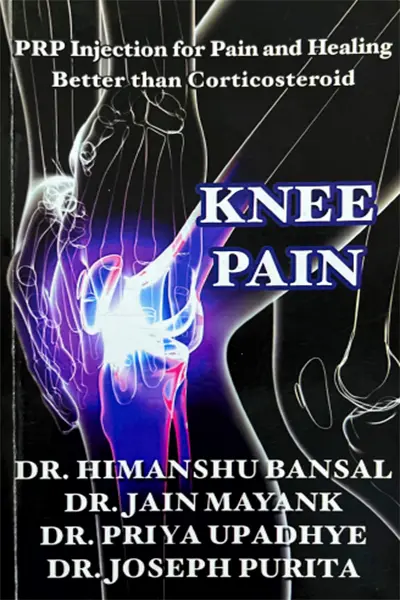 PRP Injection for pain and healing better than Corticosteroid: Shoulder Pain
PRP Injection for pain and healing better than Corticosteroid: Tennis below Pain
Platelet-Rich Plasma: Regenerative Orthobiological Tool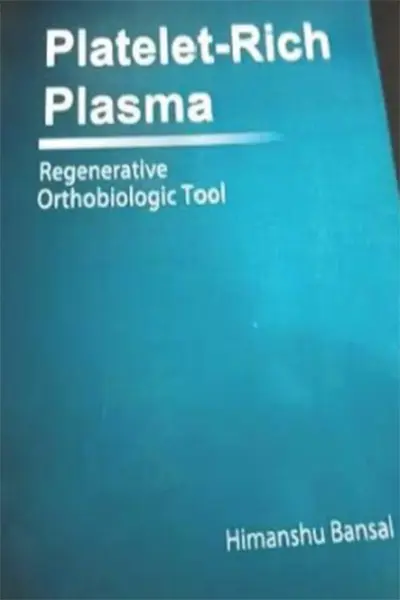 Stem Cell Therapy Conditions Book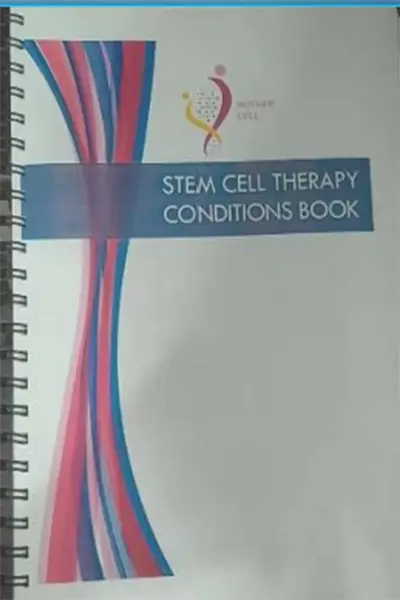 The website contains no medical advice. All statements and opinions provided by the website are for educational and informational purposes. ||
The treatment centres associated with Revita lifesciences provide surgical procedure only and are not involved in use or manufacture of any investigational drug ||
Revita does not claim that any application or potential application, using autologous stem cells are approved by the FDA. We do not claim that these procedures work for any listed nor unlisted condition, intended or implied.||
It's important for potential patients to do their own research based on the options we present so that one can make an informed decision. Any decision to participate in experimental protocol is completely voluntary ||