Make optimal use of oxygen: oxygen the key to life
Hyperbaric oxygen therapy (HBOT) is a treatment in which patients breathe 100 percent oxygen while inside a hyperbaric chamber pressurized to greater than sea level (1 atmospheric absolute). For clinical efficacy, the pressures must be greater than or equal to 1.4 ATA. In clinical practice, pressures applied usually ranges from 2 to 3 ATA.
Treatment is delivered in multiplace chambers or in monoplace chambers, a single patient breathes compressed pure oxygen. In a multiplace chamber, multiple patients are exposed to pressurized air together while they each breathe pure oxygen through a face mask, hood or endotracheal tube. Depending on the indication, patients can be treated with up to 3 sessions of HBOT daily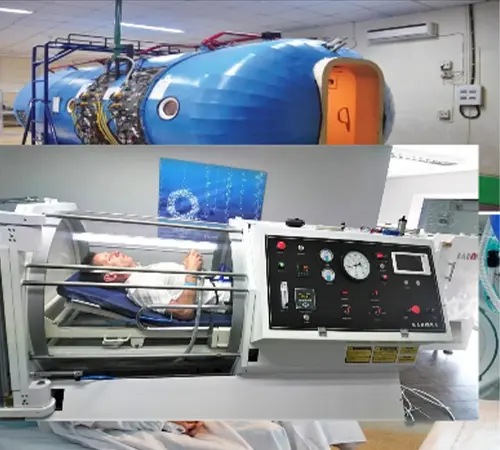 -> IT Increases inspired oxygen concentration as much as 1-1.5 times normal. Arterial oxygen rises up to 12 to 15 times normal, hence significant Reduction in tissue hypoxia (Hyperoxia, hyperoxemia).
-> Oxygen tension in tissue of 30mmHg is required for cell division and healing. Mitochondria require minimum tension of 5-3mm Hg for oxidative phosphorylation and cytochrome c activity.
-> It Increases Endogenous and peripheral Stem cell mobilisation, activation homing and differentiation potential hence useful adjunct in regenerative medicine.
-> Increased Stem cell release from the bone marrow results in increased CD34 cells many folds. The number of colony-forming cells (CFCs) also increases substantially.
-> Hyperbaric oxygen therapy also increases viability and proliferation of adipose-derived stem cells, alters marker expression and subpopulations, decreases TGF-β secretion.
-> Other benefits include fibroblast proliferation via fibroblast growth factor (FGF), capillary angiogenesis, decreasing oedema, the upregulation of vascular endothelial growth factor (VEGF), decreasing nitric oxide (NO) leading to vasoconstriction, cell proliferation and migration, wound granulation, and improved epithelial production.
*Anti-oedema effects by vasoconstriction of arteries VEGF
*Angiogenesis stimulation
*Bactericidal activity
*Increased extracellular matrix synthesis because of FGF -increased collagen
production.
Significant benefit is seen in any indication having delay in healing.
DIABETIC FOOT GAS GANGRENE CRUSH INJURY COMPARTMENT SYNDROME, TRAUMATIC ISCHAEMIA'S OSTEOMYELITIS RADIATION INJURY NECROTIZING SOFT TISSUE INFECTIONS COMPROMISED GRAFTS AND FLAPS ACUTE THERMAL BURN INJURY
Therapy promotes neovascularization and endothelial cells, fibroblast
proliferation and collagen deposition.
breaks the vicious cycle of cerebral ischemia, hypoxia, cerebral oedema and enzymatic derangements. Maintenance of blood – brain barrier integrity. Increased oxygenation of the cerebral ischaemic penumbra it also restores the arterial –peri- lymphatic oxygen concentration difference
CEREBROVASCULAR ACCIDENTS TRAUMATIC BRAIN INJURY
CEREBRAL PALSY BELL'S PALSY
IDIOPATHIC SUDDEN SENSORINEURAL HEARING LOSS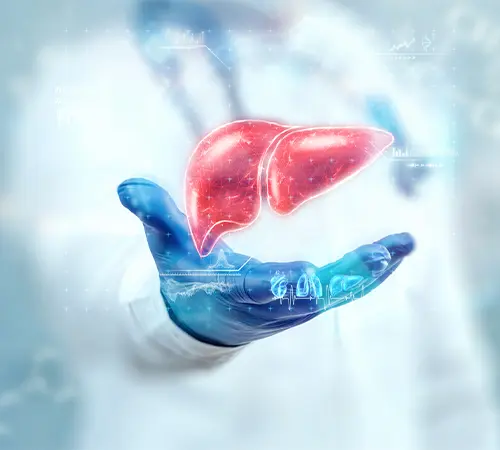 HBOT alleviated oxidative injury, hepatocyte damage, bile duct proliferation and fibrosis. fibrotic reduction seems to be due to its antioxidant role against injury promoted liver regeneration
HBOT facilitates liver regeneration in living donors after liver transplantation and after hepatectomy.

Promote angiogenesis via enhanced VEGF in regenerating liver. HBOT also decreased MDA and increased antioxidant activities, including glutathione (GSH) and superoxide dismutase (SOD) activities to benefit liver regeneration. Furthermore, biochemical analysis of mitochondrial respiration, respiratory control rate (RCR) and mitochondrial permeability transition (MPT) supported that HBOT protected mitochondria during liver regeneration.
can improve renal hypoxia by increasing partial pressure of dissolved (non-haemoglobin-bound) oxygen without affecting it's demand hence significantly benefitting patients with Chronic Renal Failure.it also recruits tissue and peripheral progenitors and supplies the optimal environment crucial for their proliferation and for tissue repair.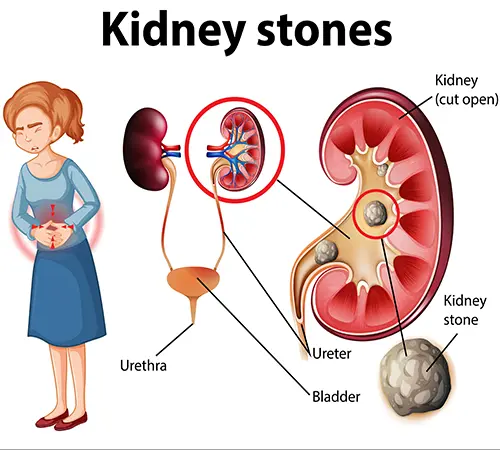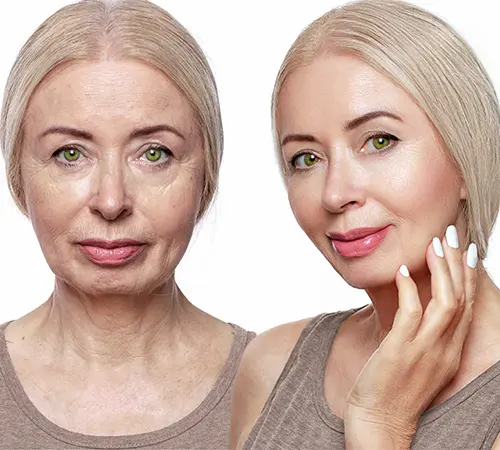 The question in this modern day is whether or not there is such a thing as "normal" aging. Given the pollution of our air, food, environment, ubiquitous exposure to automobile exhaust, second-hand smoke and carbon monoxide, heavy metals, dental amalgams, vaccines, anaesthesia, chemicals, food additives, etc., one could make a case that we all age prematurely.
When alcohol, drugs, chemicals from food or environmental pollution, trauma, systemic infections, and myriad other insults are added, the reserve capacity of the human body is progressively lost
Insults to the human body cause progressive wounding of the body. This is easiest to see on brain blood flow scans such as SPECT and PET. Wounds in the brain on these scans are registered as areas of low blood flow/low oxygenation, which cause decreased neurological function hence premature aging of brain called dementia.
HBOT is a generic drug for repair of wounds all over body. Regardless of the causes of the insults or injuries, the end product is a stereotypical chronic wound that responds to low pressures of hyperbaric oxygen treatments. these "premature aging wounds" can be repaired Its beyond doubt that everyone could benefit from the restorative effects of
Hyperbaric Oxygen Therapy.
DIABETES MELLITUS TYPE II:
HBOT ameliorates glucose tolerance hence improves fasting blood glucose in diabetic patients.
The carotid bodies (CBs) are peripheral chemoreceptors that respond to hypoxia increasing minute ventilation and activating the sympathetic nervous system. Besides its role in ventilation that CB regulate peripheral insulin sensitivity. Knowing that the CB is functionally blocked by hyperoxia suggests that HBOT could be used as a therapeutic intervention for type 2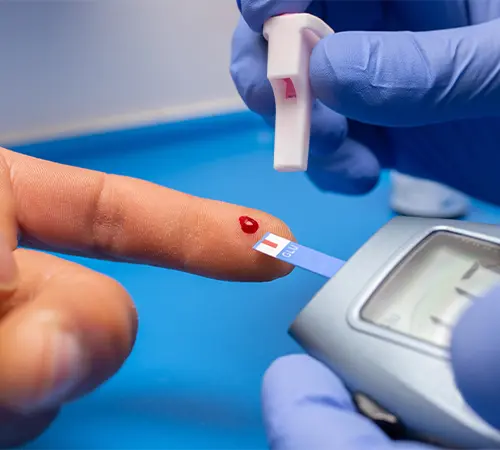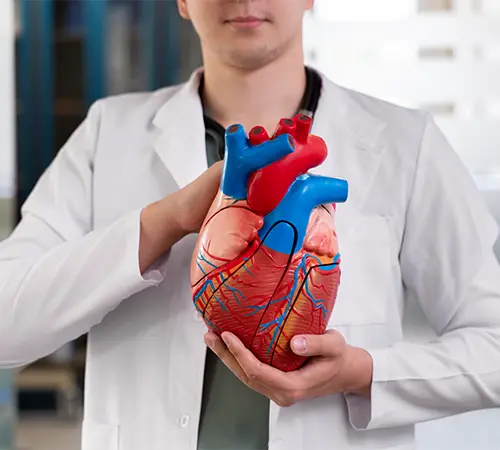 CARDIO VASCULAR DISEASES:
hyperbaric oxygenation will have dramatic therapeutic application in certain
cardiovascular diseases associated with organ hypoxia. Suitable examples
include
– CORONARY HEART DISEASE
– CEREBRAL VASCULAR INSUFFICIENCY
– ARTERIAL INSUFFICIENCY OF THE EXTREMITIES,
– CENTRAL RETINAL ARTERY OCCLUSION
– SURGICAL PROCEDURES THAT REQUIRE TEMPORARY INTERRUPTION OF THE CIRCULATION.
The hyperbaric hyperoxic conditions can provide oxygen to areas of the
myocardium (or other tissues) that have low oxygen tensions. This allows the cells to continue to generate energy and maintains the physiological capability of the myocardium or other tissues.
Hbot has both short- and long-term synergistic benefits hence relief from cardiac pain, in conjunction with drugs. Antiarrhythmic action is because of parasympathetic activity and increases vagal tone. It has been suggested that another factor leading to the slowed heart rate is a nitrogen-dependent beta-blockade of the heart. Other cardiovascular effects of hyperbaric hyperoxic conditions include a reduction of cardiac output, stroke volume, and ventricular contractility. The reduction of cardiac output is thought to be primarily due to the hyperoxic induced bradycardia.
The website contains no medical advice. All statements and opinions provided by the website are for educational and informational purposes. ||
The treatment centres associated with Revita lifesciences provide surgical procedure only and are not involved in use or manufacture of any investigational drug ||
Revita does not claim that any application or potential application, using autologous stem cells are approved by the FDA. We do not claim that these procedures work for any listed nor unlisted condition, intended or implied.||
It's important for potential patients to do their own research based on the options we present so that one can make an informed decision. Any decision to participate in experimental protocol is completely voluntary ||